Guitarist Tommy Marsh plays Rae Gordon's We Three Kings Christmas in the Bay, Dec 6th and 8th
We Three Kings highlights three "Kings", talented musicians full of holiday cheer!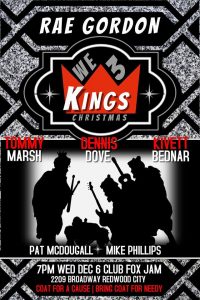 Wednesday, December 6 at 7 PM
Fox Theatre Redwood City
2215 Broadway, Redwood City, CA 94063
This show highlights Kings Kivett Bednar on guitar, Dennis Dove on drums and Tommy Marsh on guitar. Also appearing are Pat McDougall on keys and Mike Philips on bass. Come enjoy these special guests at the renowned Club Fox Jam!

and also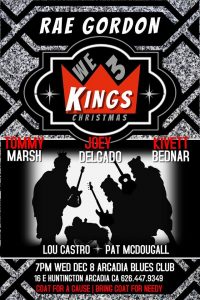 Friday, December 8 at 7 PM
Arcadia Blues Club
16 E Huntington Dr, Arcadia, California 91006
Click here for tickets!
This LA show features guitarist Kings Kivett Bednar (Rae Gordon Band), Joey Delgado (Delgado Brothers) and Tommy Marsh (Crooked Eye Tommy). Also appearing are Rae Gordon on vocals, Pat McDougall on keys and Lou Castro on bass. Together they're the special guests of the awesome Arcadia Blues Club, the premiere venue for blues in the Los Angeles area.