Sunday, December 7 at 1:00pm
The Arena
999 Enchanted Way, Simi Valley, California 93065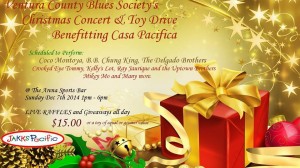 It's that time of year again… Time to raise money and a truckload of toys for the kids at Casa Pacifica. Each year The Ventura County Blues Society holds a benefit concert and Toy drive to help Casa Pacifica. This year we have an amazing line up of musicians for you. How about the one and only COCO MONTOYA… A legend in his own right and someone who brings it every time he picks up a guitar.
Lets add B.B.Chung King to the line up and see if that lights your fire. A SMOKING Texas style guitarist and songwriter and award winning producer…
Then The AMAZING DELGADO BROTHERS… HOLY CRAP Joey Delgado and the boys are just about as perfect a band as I have ever heard.. So excited to perform with them…
Kelly's Lot and Ray Jaurique and the Uptown Brothers will also be performing… Both are very special performers and a treat to see and feel…
Crooked Eye Tommy will be performing with some very special guests including Mikey Mo, John Marx and many others…
ALL OF this to Benefit Casa Pacifica..
We want to thank JAKKS Toys for donating $3000 dollars worth of toys to this event…
$15 or a toy of equal or greater value